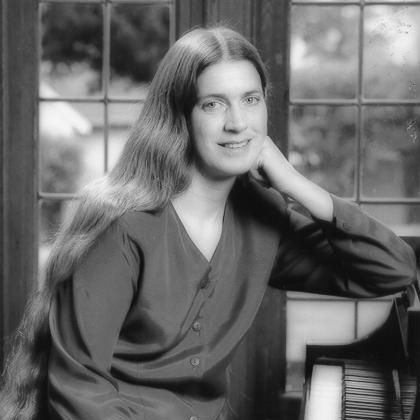 Artist Biography
Contemporary instrumental performing and recording artist Karen FitzGerald brings together a classically trained technique with a deeply personal musical intuition that comes straight from the heart.  Her solo piano compositions range from delicate and soothing to passionate and soul-stirring, evoking the beauty of nature, the subtle shades of human emotion and a longing for spiritual wholeness.  According to her hometown newspaper, the Bellingham Herald, "Her soaring compositions are reminiscent of snowstorms and waterfalls.  Her musical expression is at once powerful and melodic." 
Karen's debut CD, Heart of the Rain, was released in April 1999. Heart of the Rain is nine beautiful piano solos, with tasteful synthesizer enhancement on two tracks.  Heart of the Rain begins with the gentle "Remembering," bringing us back in touch with our hearts.  The journey continues expressing the movements of nature, including the wistful "A Rainy Night Outside Your Door" and the energetic "Summer Rain."  The album climaxes with the triumphant "Emergence," then soothes us to sleep with "Lullaby." 
Karen's musical life began early as she listened to her mother play the classics on the family's baby grand piano.  That piano held special fascination for Karen, and at the age of five, she begged her parents for lessons, which initiated twelve years of traditional piano studies emphasizing the classics, music theory, composition and performance.  She graduated with honors from the Wilmington Music School in her hometown in Delaware. In college, Karen majored in Physics and Mathematics, but when she needed a break from her studies, she once again found herself drawn to the piano.  As she released pent up feelings at the instrument, she learned how to improvise, and began creating her own distinctive musical vocabulary. 
Karen then moved to Northwest Washington where she spent the next fifteen years working as a computer programmer.  Early in this time period, she discovered several pianists who affected her deeply.  "The music of Keith Jarrett opened my mind and expanded my horizons in the world of improvisation.  But it was the simple, lyrical lines of George Winston that changed my life and got me started on my path of piano composition.  Liz Story's music was inspirational as well, and her presence as a successful woman pianist-composer provided me with an invaluable role model." 
The first fruit of this musical exploration was Karen's 1987 cassette release, Turquoise Flame.  In 1990 her piece, "Remembering" was selected as a winner in the Songwriter's and Musician's Foundation song contest, and in 1994 her piece, "Summer Rain" was featured on a seamless connection, a compilation album of top Northwest Washington songwriters.  In 1998 and 1999, three of Karen's pieces were choreographed by Penelope Coberly Lagios of Bellingham's Dance Gallery, and were performed live in concert with the dancers.  In 2001, Karen collaborated with cellist Janet Peterson of Motherlode to create music for a local production of The Vagina Monologues.  In 2002, Karen's piece "Lullaby" was released by Spring Hill Music on The HeartAid Project, a 9/11 solo piano benefit compilation, followed by Voices of the Water, another Northwest Washington songwriter compilation.  In 2009 Karen's music was again chosen for Relaxing Piano Artists for Alzheimer's Research.
Karen's love of music has also involved her deeply with singing.  She has worked with choral groups both large and small in the capacities of director, arranger, and singer, as well as accompanist.  She co-founded the dynamic 85-member Kulshan Chorus, and for ten years dazzled Bellingham audiences with her gospel, country, and jazz piano arrangements.  From 1994 through 2019 Karen was a an integral part of two co-creative vocal groups, Equinox and Calyx, contributing as pianist, vocalist and arranger.  Her piano work can be heard on their 1999 release, Wake Up In The Moonlight Singing, and their 2006 release, Sweet Life.  Karen currently works as director of the Treble Voices choir at Bellingham Unitarian Fellowship.  Karen is also experienced in accompanying solo performers, and her playing is featured on folk singer-songwriter Linda Allen's 1991 release, Washington Notebook, and her 2012 release Carry Us Through This Night. 
Recently, Karen's music has begun to find its way into film and television, including The Oprah Winfrey Show and Best Week Ever, as well as background music for numerous promotional videos and web sites.  She can be heard on a number of Internet broadcasts, including the popular Whisperings Solo Piano Radio show. 
With her second solo CD, Cascade, in the planning stages, Karen FitzGerald is poised for further expansion in her musical career.  As Chris Lunn of the Victory Music Review says, "Here is modern, original solo piano ~ clean and crisp at its most lyrical, warm sense... Very fine piano and composition by a woman who should have national stature." 
Discography: 
Solo projects:
Turquoise Flame (cassette) – 1987
Heart of the Rain – 1999 
Side musician:
Washington Notebook – Linda Allen – 1989
Wake Up in the Moonlight Singing – Equinox – 1998
Sweet Life – Equinox & Calyx – 2006
Carry Us Through This Night – Linda Allen – 2012
Compilations:
A Seamless Connection – 1994
The HeartAid Project – 2002
Voices of the Water – 2002
Relaxing Piano Artists for Alzheimer's Research – 2009